Announcing: Pulsedive 6
The latest release of Pulsedive's community platform introduces a much-demanded feature and improved functionality for all users.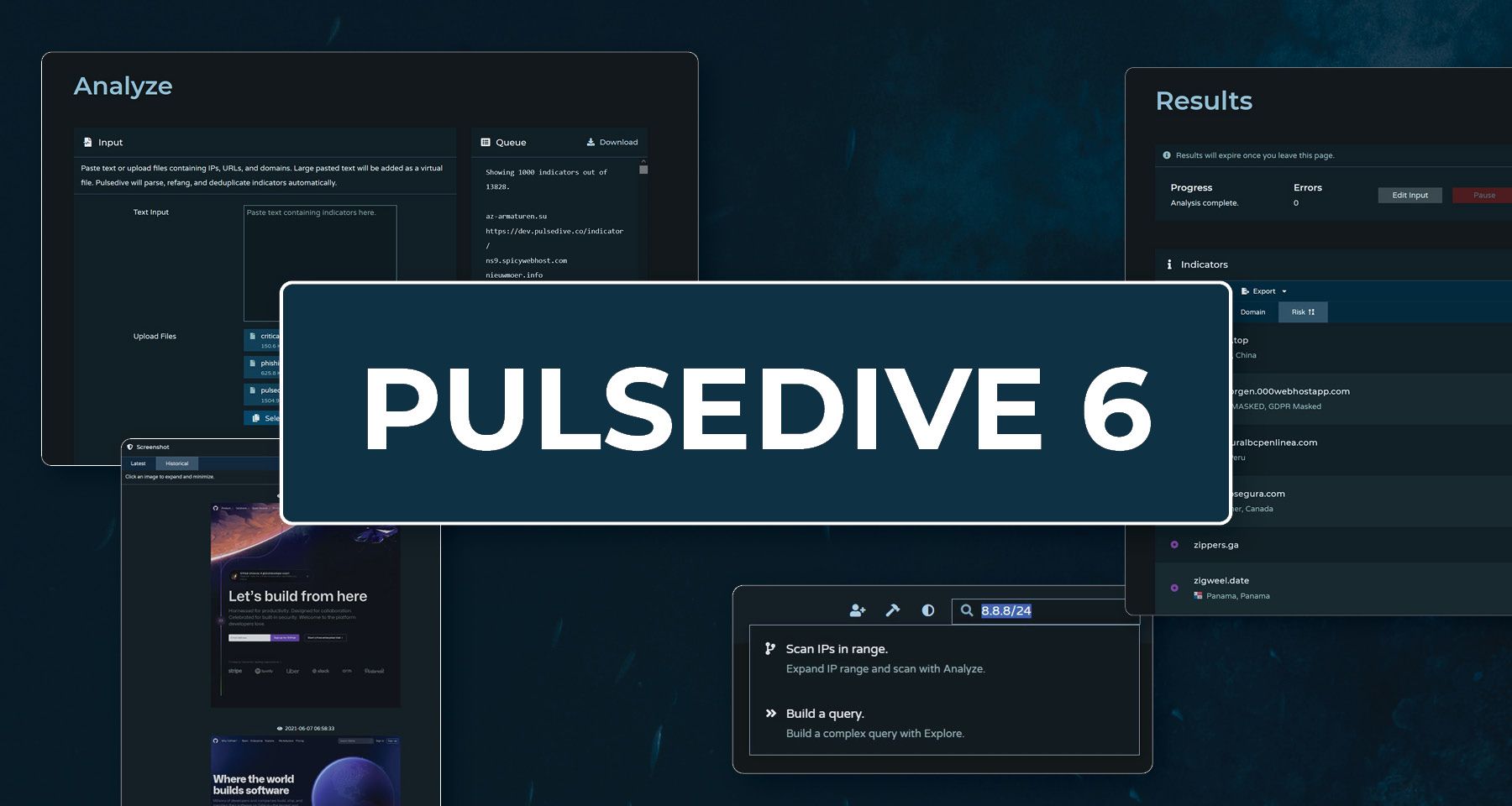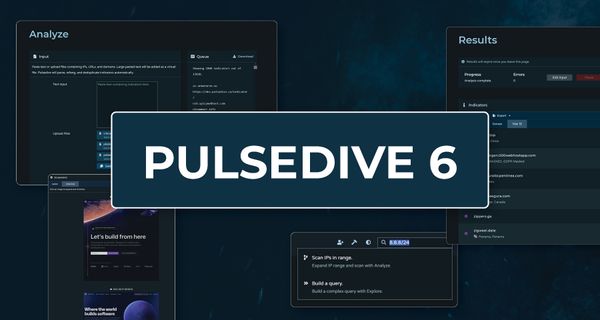 The latest release of Pulsedive's community platform introduces a much-demanded feature and improved functionality for all users.
We're excited to announce the release of Pulsedive 6.0 this week, just in time for the holidays, which comes with the new "Analyze" functionality, as well as streamlined user experience. These changes impact all users (free and upgraded).
TL;DR
Analyze - bulk parsing, processing, and export
Expand and analyze CIDR IP ranges
PTR records in Explore & Analyze results
On-demand pivot scanning in indicator previews
Scrollable historical screenshots
View/export user submission history
Additional UI and performance improvements
Read more about each item below, with helpful screenshots and links.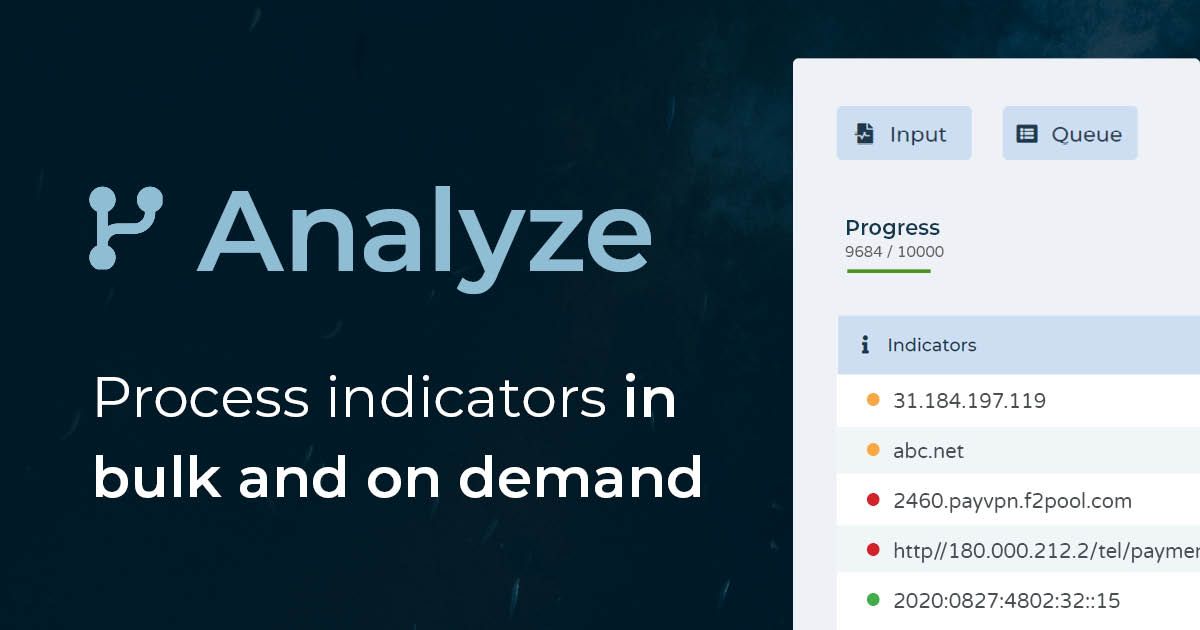 Analyze
Welcome to a brand new Pulsedive function, Analyze, for bulk processing, enrichment, and exporting of indicators. Analyze is designed to support internal investigations, proactively find potential threats, parse and enrich indicators from external reports, and make it easy to extract and compare key IOC information in bulk and on demand. Analyze is the previous Submit, reimagined... plus a whole lot more.
We made it easy to enter and review your inputs, track progress, and export data. Learn how it works below:
1. Input
Paste a text list of indicators or upload files. Large pasted text will be added as a virtual file. Pulsedive will parse, refang, and deduplicate indicators automatically. Add and adjust parsing exclusions as needed.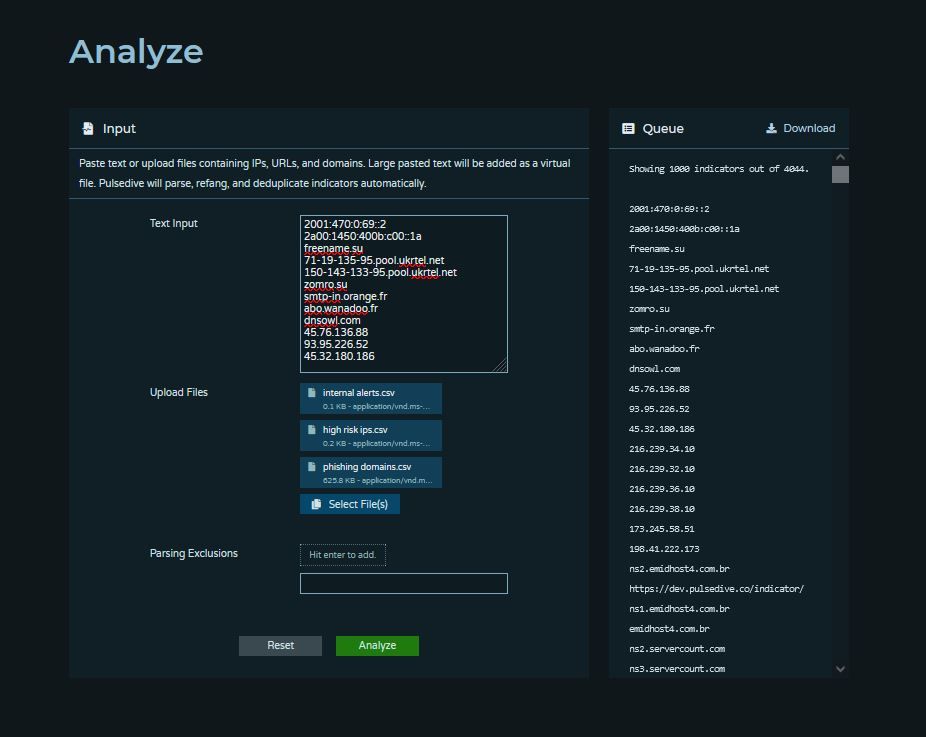 2. Queue
Pulsedive will automatically parse out your indicator list, which you can easily review and download. We provide a preview of the first 1,000 indicators.
💡
Want to quickly extract only the de-duped, refanged IOCs from a variety of CSVs, TXTs, or paste lists with inconsistent formatting? Treat Pulsedive's queue parsing tool as a free utility.
3. Process
Hit Analyze, then track progress and errors as we process your queue. Edit original data input or pause the analysis as needed. We'll retrieve results from our database (if available) or perform passive scans on the indicators not already in Pulsedive.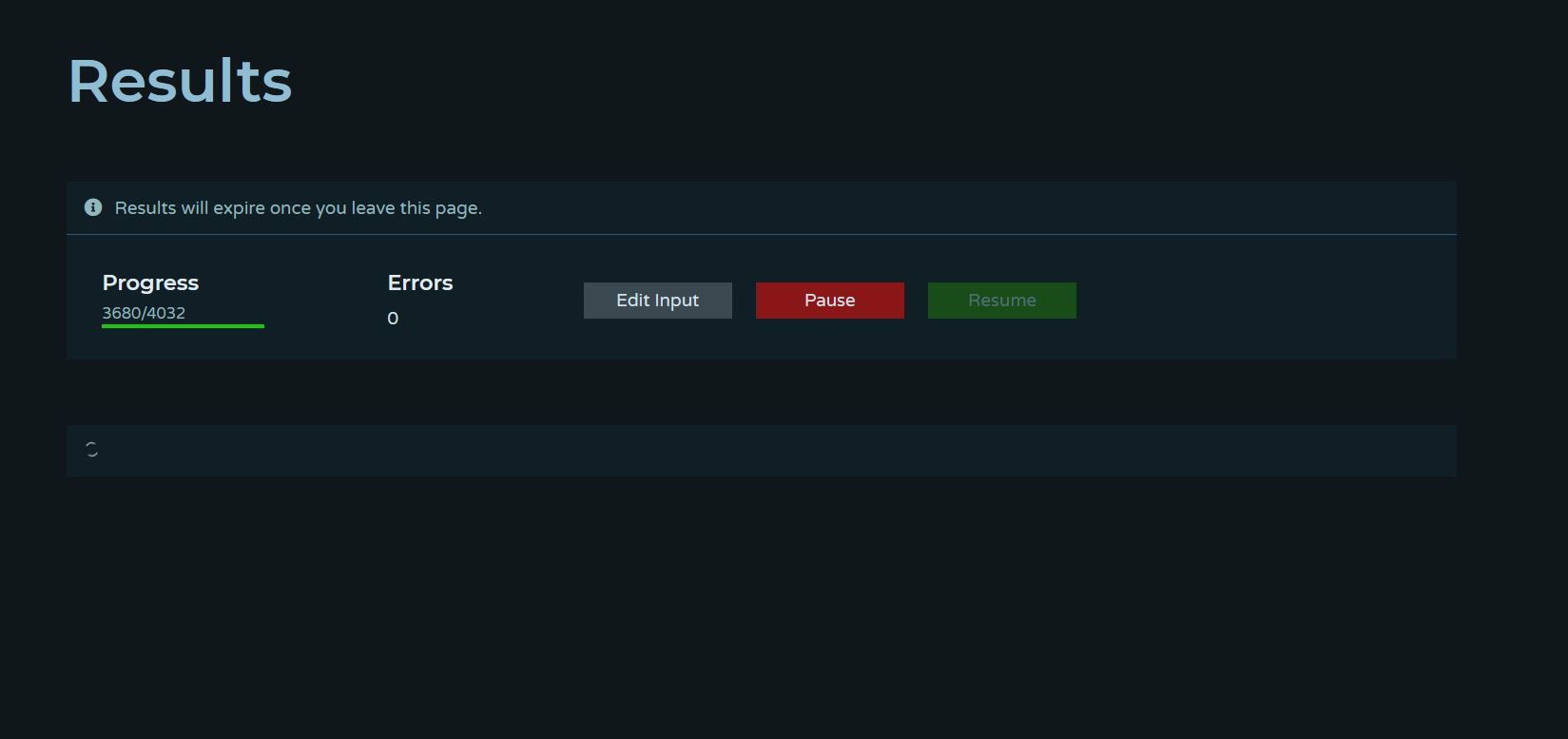 4. Results
After processing is complete, your results will display in a table. Sort and filter, open previews for further pivoting, export, or submit your results.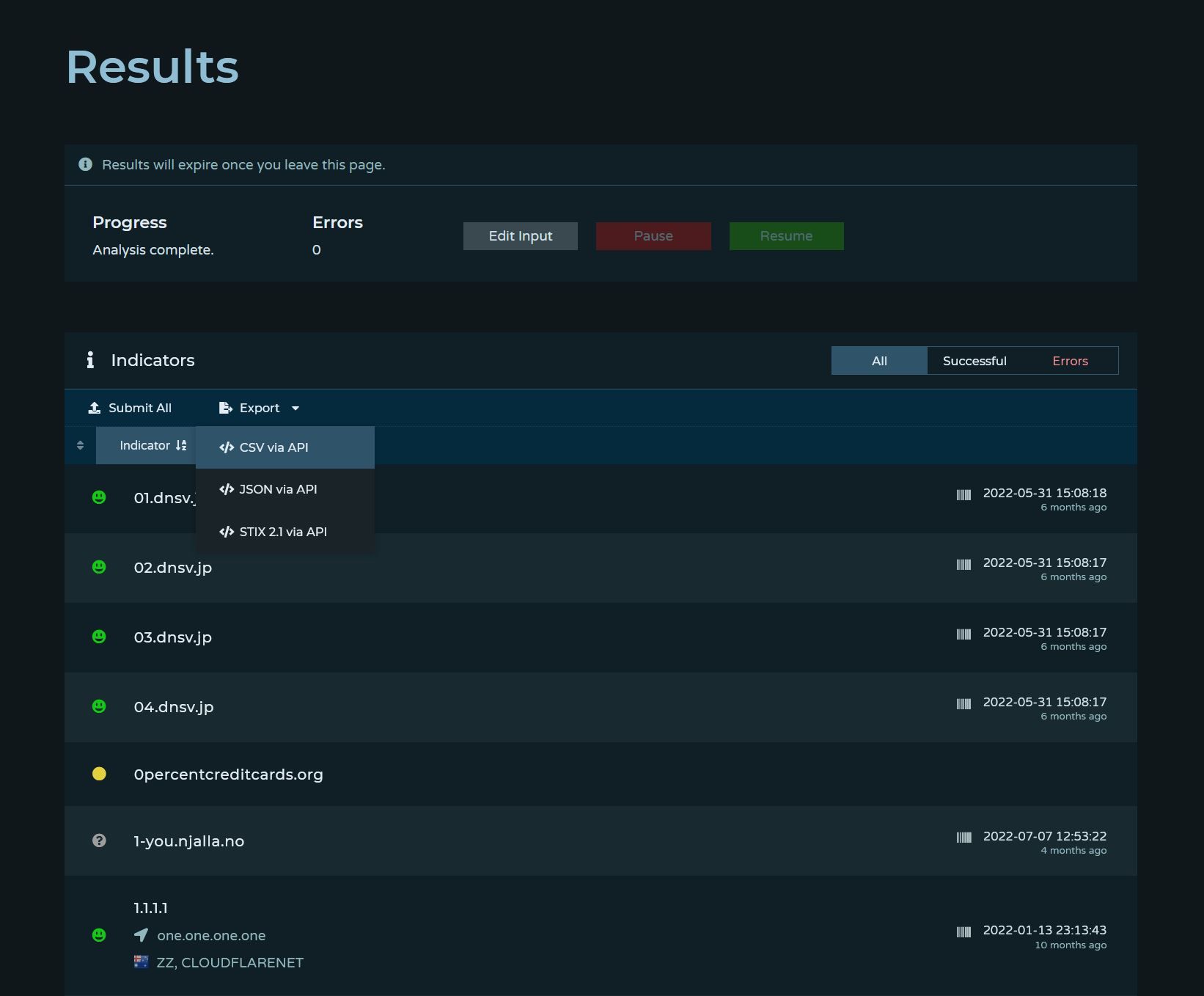 Export as CSV, JSON, or STIX 2.1. With our CSV and JSON exports, each IOC includes key contextual information, such as indicator type, risk, key timestamps, a reference link, WHOIS data, and PTR record.
Submit in bulk to add these indicators to Pulsedive's community platform.
CIDR Searches
Entering a CIDR range of addresses in our search bars now allows users to expand and scan the IP range using Analyze.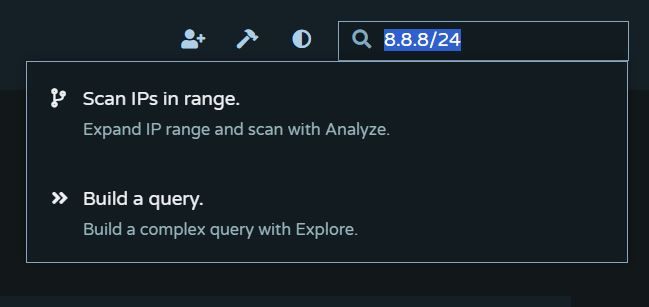 PTR Records
For additional context, all IOC Analyze and Explore results will now display PTR records, where available. PTR records will also show up under IOC previews.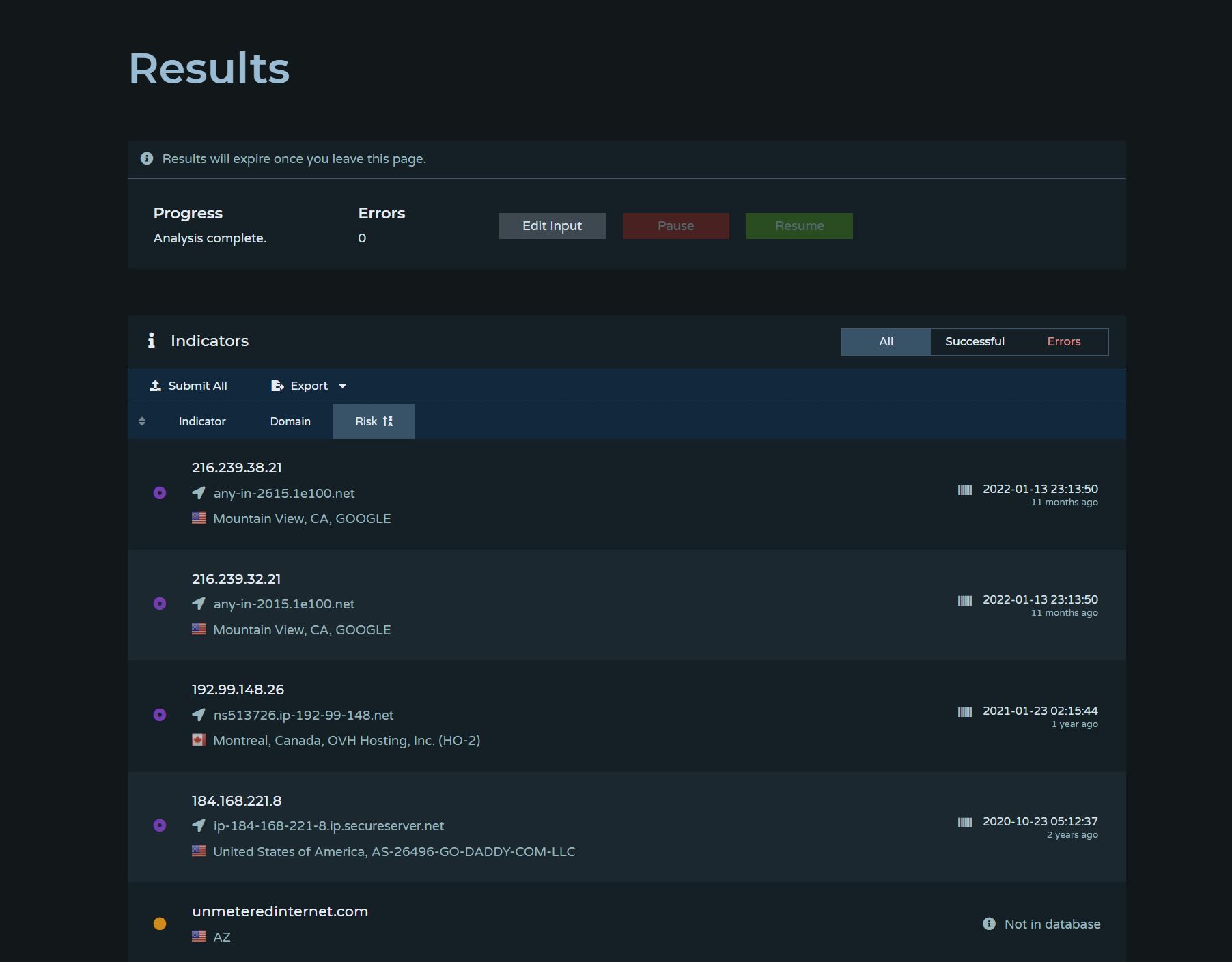 PTR records will now also be included in CSV and JSON exports.

Pivot Scanning in Previews
In support of more efficient pivoting, if a linked indicator is not already in the Pulsedive database, Pulsedive will perform a passive scan in the preview window.
From there, you can open the complete scan results in a new window without the need to re-scan or perform an active scan for additional enrichment. The indicators will not be saved to Pulsedive unless submitted.
Scrollable Historical Screenshots
For Pro and API users, we've improved our screenshots user interface. While the latest screenshot will still show as the default, all historical screenshots are ordered together for easier navigation and review.
Clicking into any historical thumbnail will still expand to the full screenshot, and clicking again will return it to thumbnail size.
View/Export Your Past Submissions
There are several ways to see what you've submitted to Pulsedive.
1. Under "Explore," add user=[userid] to query your past submissions. Users may only query their own username. You can refine your query further with any of our Explore search fields and filters. Explore results are subject to account limits - 100 for visitors, 1,000 for free registered users, and 10,000 for paid accounts. Read our Explore guide here to get started.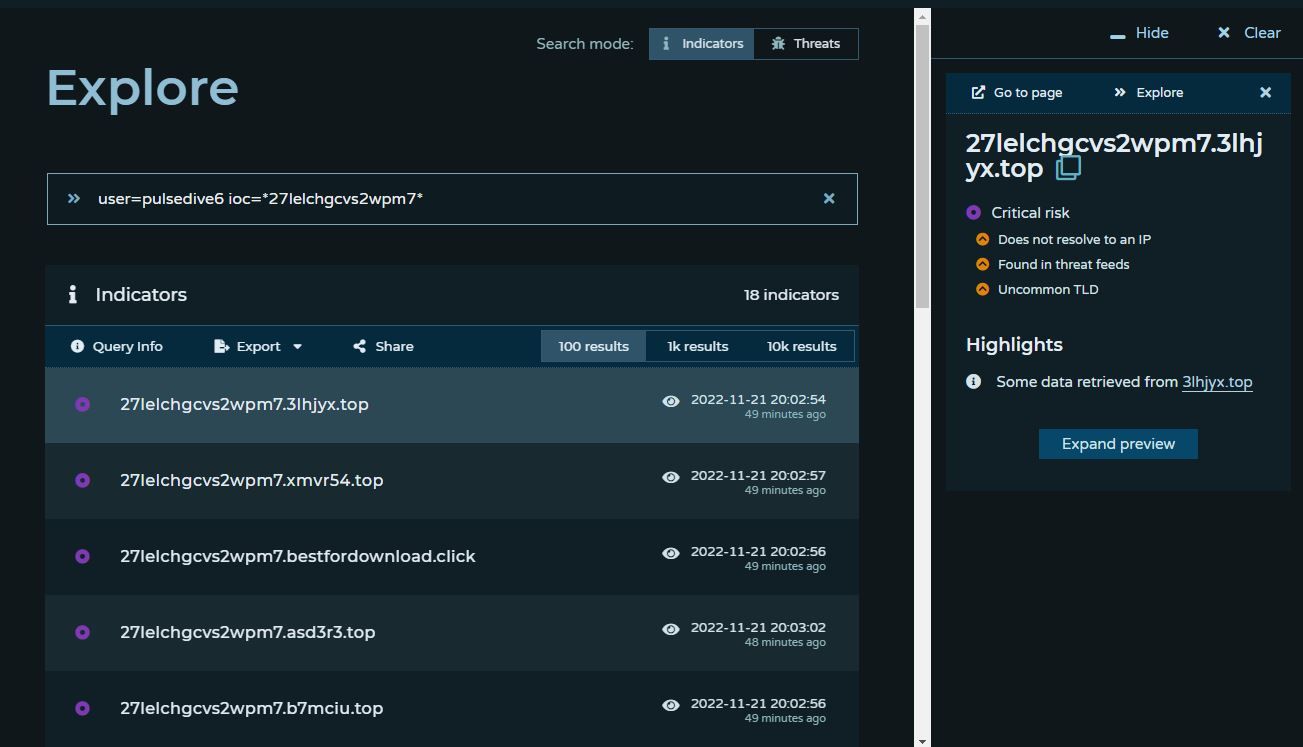 2. Under your account menu, select "Export Submissions" to download a CSV file. The exported CSV includes all indicators you submitted, along with indicator type, risk, key timestamps, reference URLs, and related WHOIS data.
3. On your account page, you can download Indicator Submissions as well as Raw Submission Data.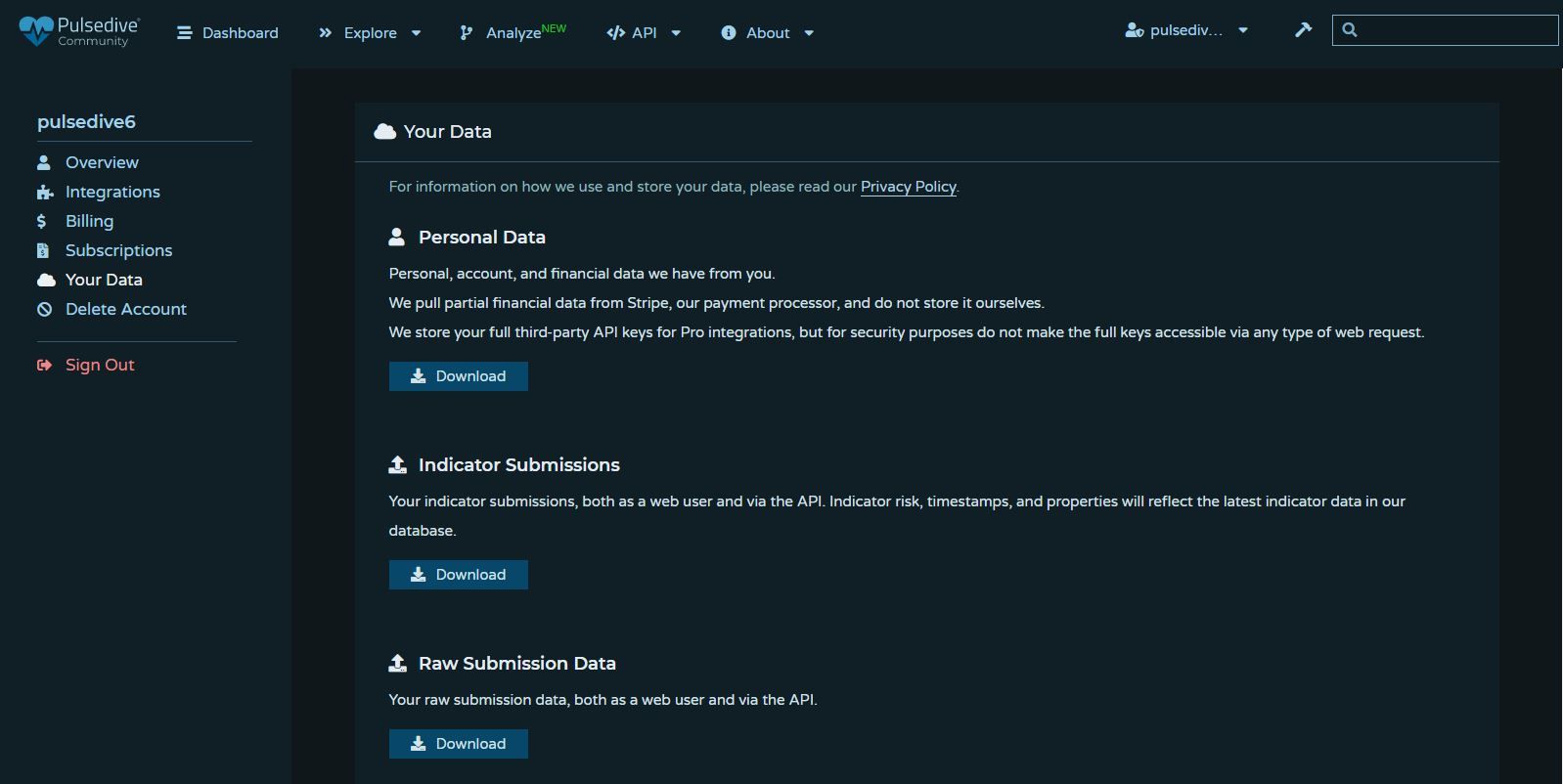 Other Improvements
It wouldn't be a major release if it didn't come with an assortment of other fixes and upgrades throughout the platform. Here are just a few:
Added progress % while performing scans for more transparency
Cleaned up our global menus for more intuitive navigation
Subtly sleeker, more legible dark mode color theme
Improved API response time
Give the latest Pulsedive a go!
We're excited to share this with our users and look forward to your feedback. For any questions, please contact: support@pulsedive.com