Announcing Pulsedive Enterprise
We've launched Pulsedive Enterprise, a dedicated threat intelligence platform that doesn't break the bank. Read on for details and FAQs.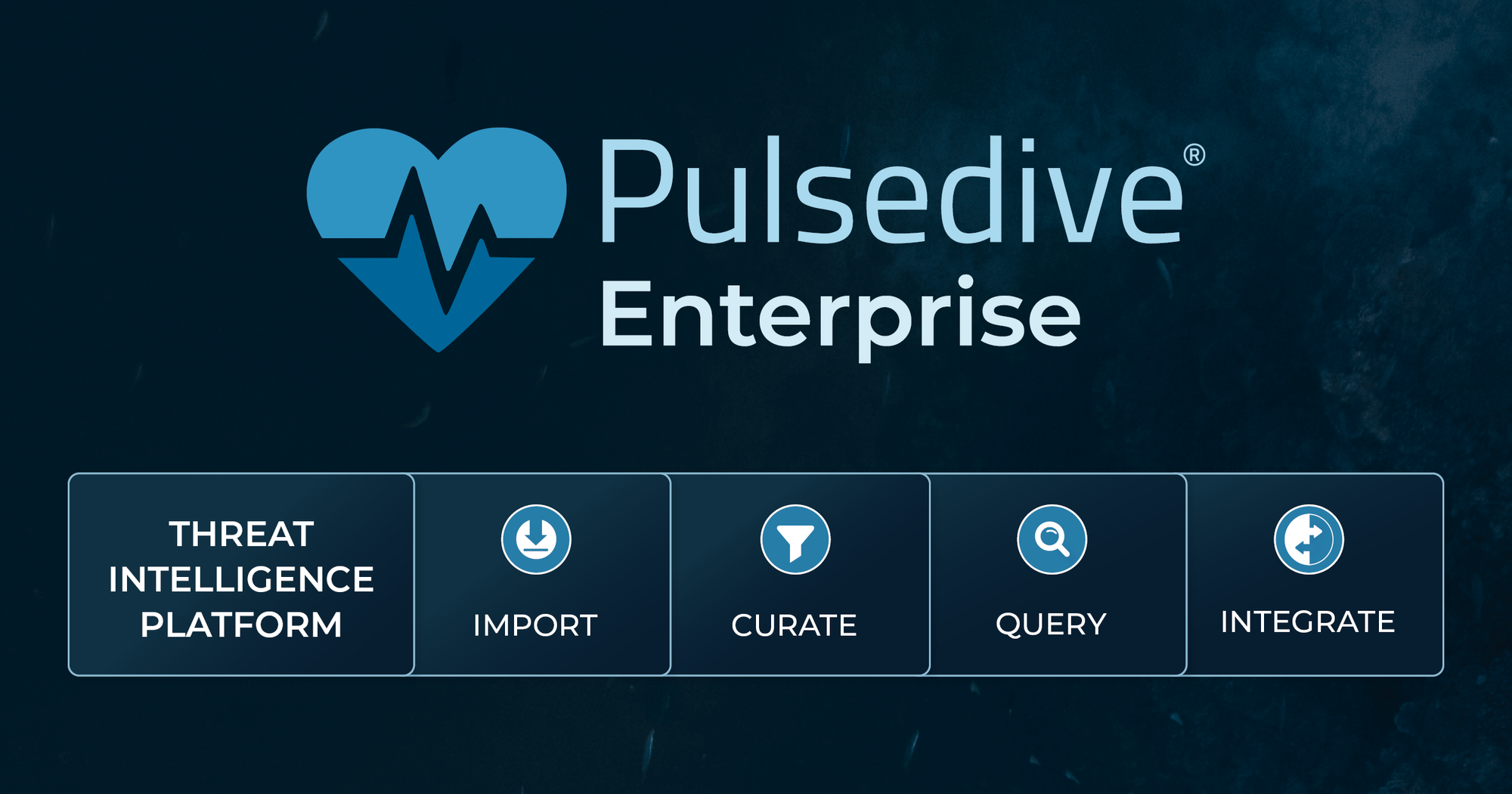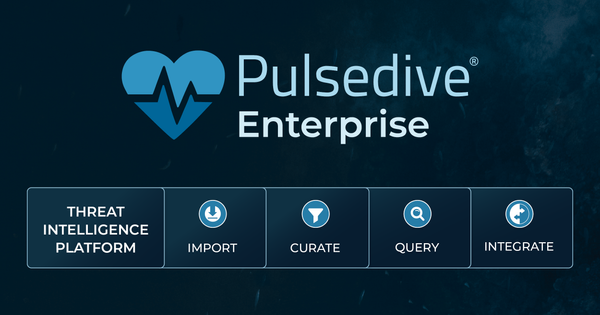 We're excited to announce the launch of Pulsedive Enterprise! Our team has developed a version of Pulsedive with the unique needs of enterprise TIP users in mind - details and FAQs below.
A dedicated threat intelligence platform that doesn't break the bank.
Tens of thousands of security practitioners worldwide rely on Pulsedive each month to support their threat intelligence workflows. Use cases span from single indicator enrichment to more sophisticated research and automation.
With Pulsedive Enterprise, teams looking to advance their CTI capabilities can bring all of their unique data into a centralized, private platform with collaborative curation and reliable integration. We developed Enterprise for teams who seek affordable versatility and control without the challenges (and frustratingly hidden costs) of maintaining homegrown or open source solutions.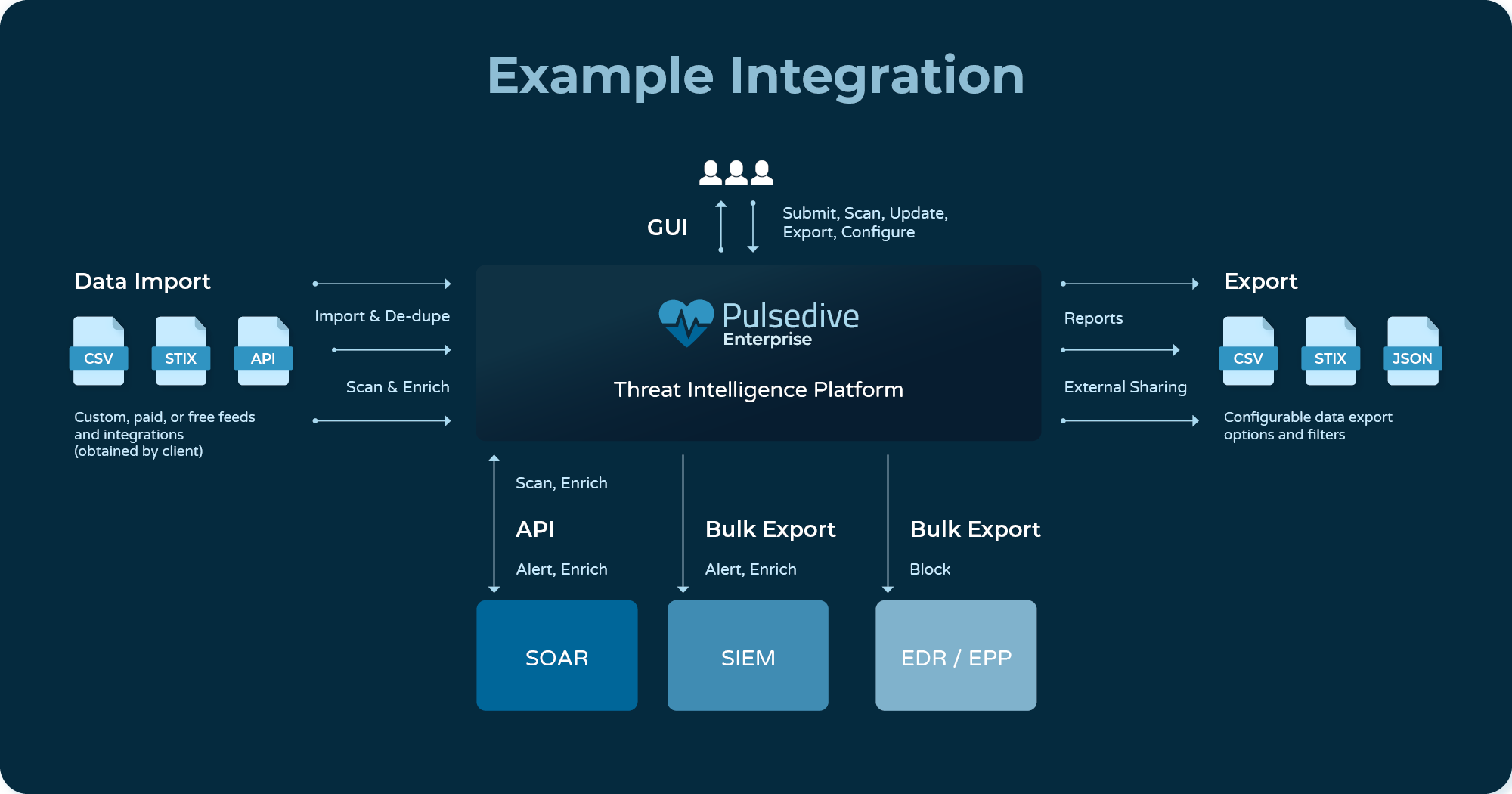 "Pulsedive Enterprise's threat insights and seamless workflows take the traditional TIP beyond simple enrichment." - Anthony A., Director of Cyber Threat Intel, BSI
A familiar experience with more functionality.
To meet organizational TIP needs, we leaned into a few key pillars:
Focus on meaningful team collaboration
Control and ease of integration
Building transparency into everything - product, process, pricing
At a glance, Enterprise features include:
User management and administration
A dedicated and fully separate domain
Bulk management and editing of your data
Unlimited data ingestion, querying, exporting
Plus more, in our FAQ down below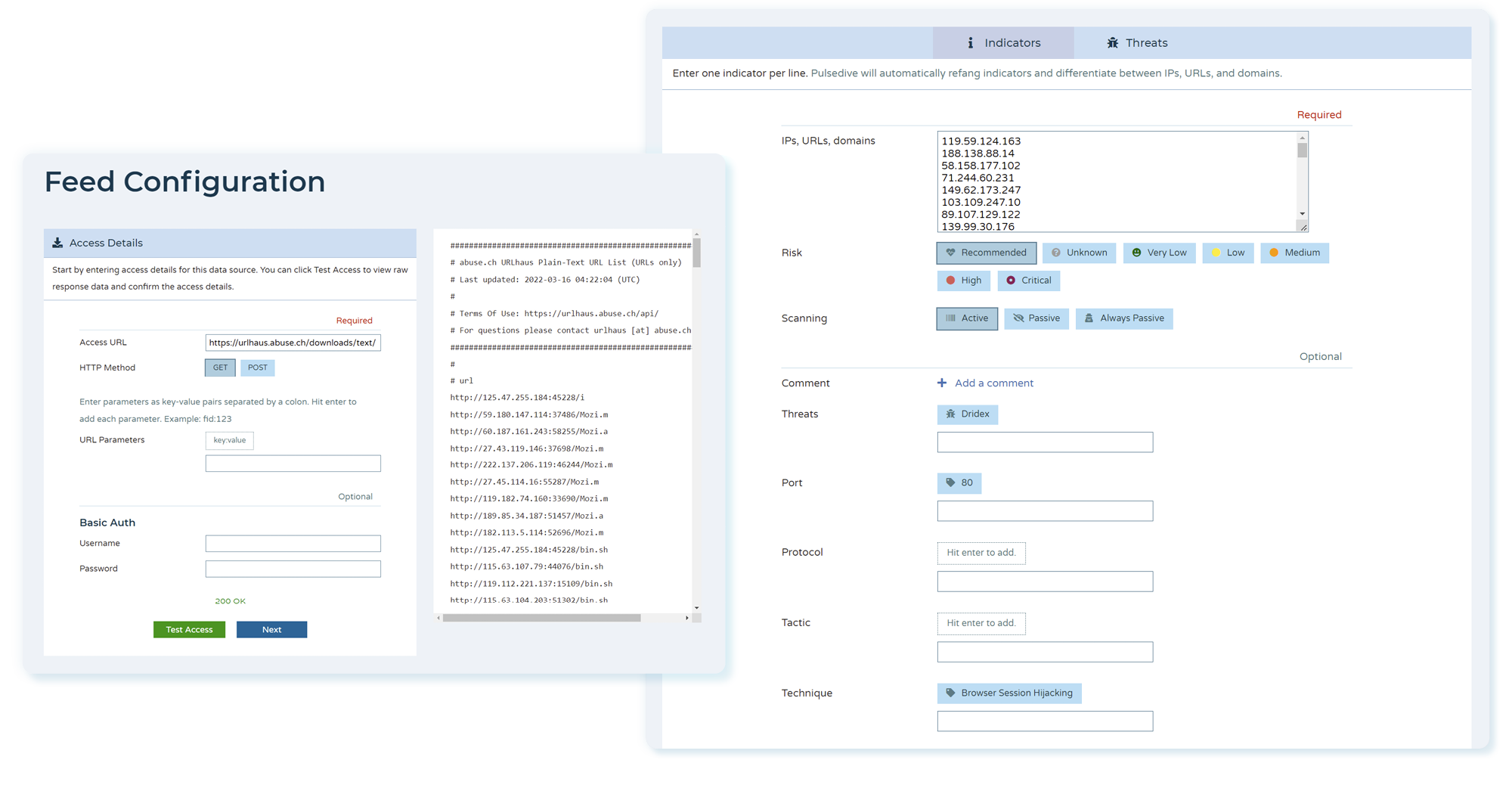 FAQs
Why Enterprise, now?
Enterprise has been a long time coming. Our earliest followers may even recall that our origins were in enterprise!
Over the last few years, user feedback demonstrated that significant work remains in operationalizing threat intelligence - with room in the market for a different kind of TIP. When numerous users and clients request POCs for a product that's not publicly available, you listen closely. After working with several early adopters to test and refine Enterprise, we're ready to support more teams.
What are the differences between Pulsedive Community and Enterprise?
Enterprise is a dedicated instance of the Pulsedive platform for your organization. In addition to familiar enrichment, correlation, integration, and other capabilities, Enterprise allows you to:
Add custom source feeds - commercial, open source, or DIY
Add and track custom threats, aliases, and analyst comments
Manage/update thousands of indicators matching specific queries at a time
Query and export your data
Invite and adjust users (3 user tiers available)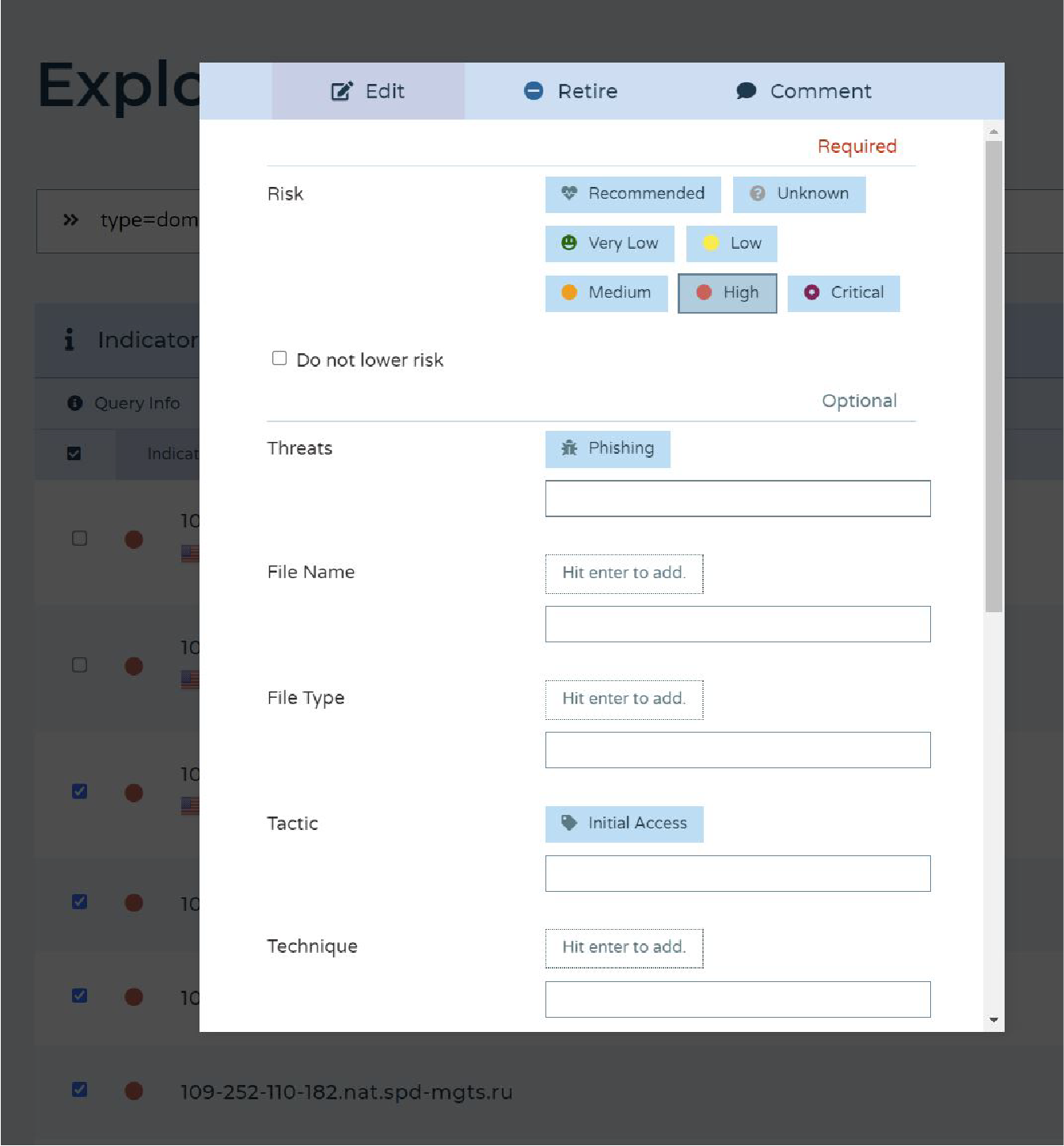 We don't share Enterprise TIP data with the Community database, and there are no hidden costs for our standard license. More information is available in this features comparison table.
What can Enterprise do? Like, really specifically?
If you've used Community before, you've already experienced parts of how we process, display, and integrate data. Our standard Enterprise instance is a SaaS cloud deployment that builds on top of our platform, supporting:
Automated and manual ingestion of IOCs, each de-duped, enriched with active and passive scanning, correlated, normalized, and scored
Querying with boolean logic and wildcards to support pivoting and analysis (ex. "whois.++registrant="RIPE Network Coordination Centre" (protocol=ftp AND protocol=https) technology=nginx risk=medium+ type!=url,domain")
Unlimited integrations with SOAR, SIEM, firewalls, and numerous other tools (see our integrations page for the full list with links - requests welcome as we continuously add more based on popular demand)
To get into all the nitty-gritty details, check out page 13 of our brochure where we cover the most common specifications. We also include *real* screenshots of various features so you can get an honest look at what you'll be using day to day.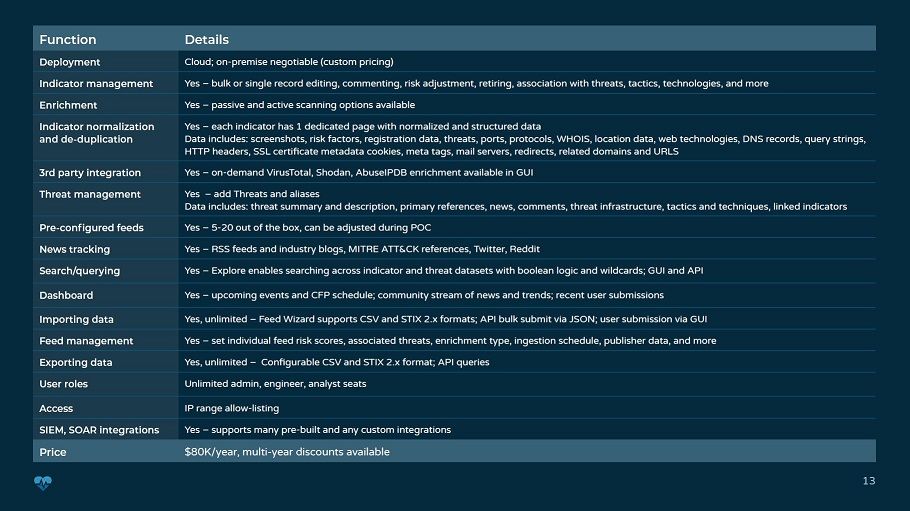 How much does it cost?
$80K annual license, with multi-year discounts available. This price covers the standard cloud-hosted instance with:
Unlimited user seats for admins, engineers, and analyst users
No quotas on usage, like submitting, scanning, editing, searching
As many feeds as you want to configure/ingest, pulling data as frequently as every 10 minutes (daily is recommended)
Unlimited data exports in STIX, JSON, CSV format
Unlimited integrations, custom or pre-built
If your organization has more specific needs, like on-premise deployment, unique configurations, re-selling or offering paid client access, our team is happy to discuss custom pricing and licensing. For everyone else, we're keeping it simple with a flat $80K.
Does that mean the Pulsedive Community platform is going away?
No way. We are committed to improving Pulsedive Community for everyone. Our free tier is staying free. In fact, we are working on some exciting and highly-requested free features right now - stay tuned :)
How is this related to your existing products?
As a company, Pulsedive's aim is to provide frictionless threat intelligence solutions for growing teams. That means supporting an individual users who are just starting to add CTI capabilities to more mature organizations with dedicated CTI programs. Pulsedive Enterprise is ideal for those who need something beyond our commercial API & Feed products.
As a separate instance, you can use Pulsedive Enterprise in conjunction with our Community offerings or stand-alone. You can imagine our current solutions portfolio like this: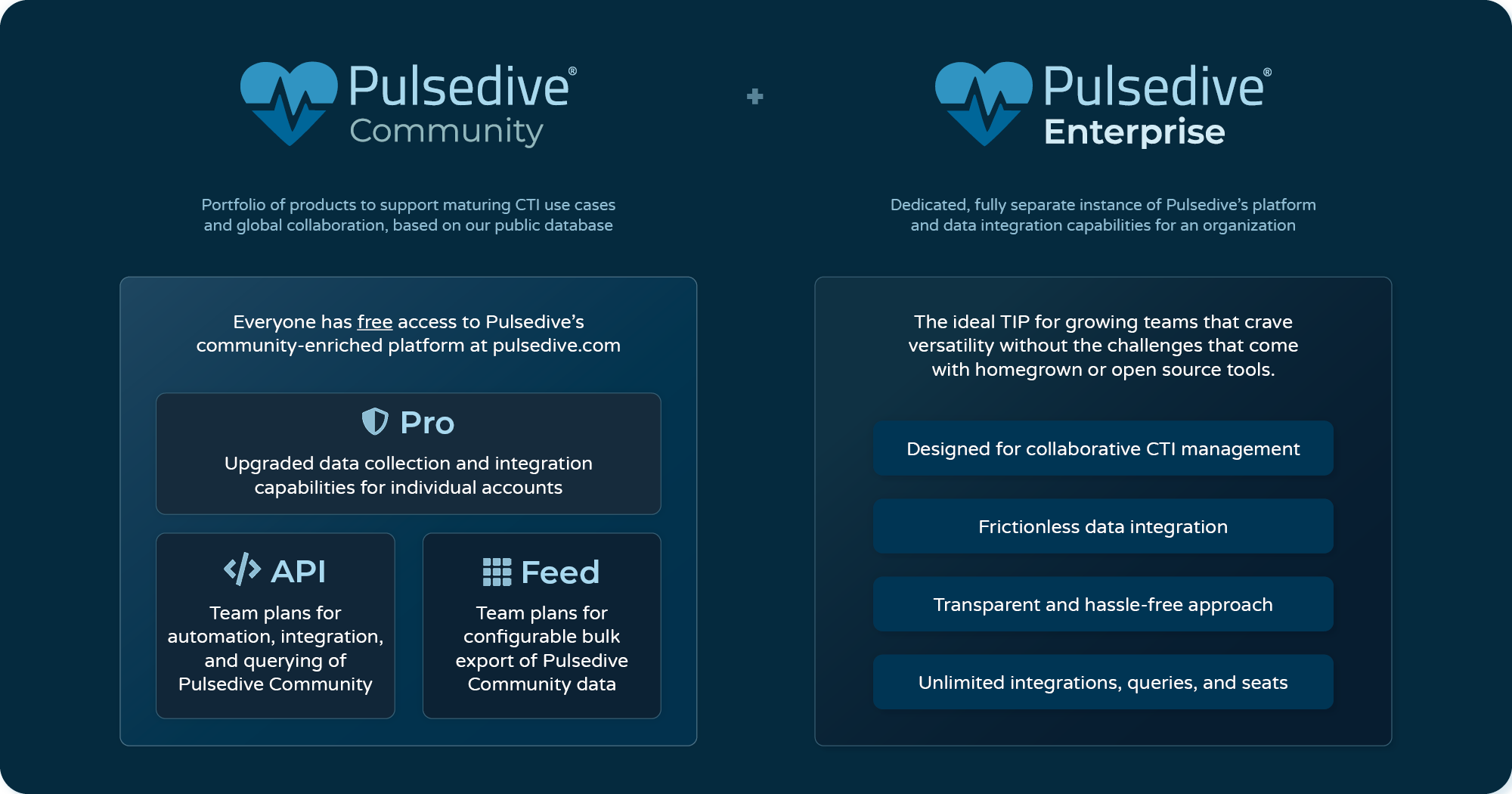 Ready to POC?
If we've piqued your curiosity, our brochure provides more information on Pulsedive Enterprise and our procurement process.
If you're interested in a POC, contact us at sales@pulsedive.com.