Work With Us: Threat Researcher
Pulsedive is looking for a threat researcher on a consulting basis to help collect, analyze, and disseminate the latest threat data & intelligence to the community.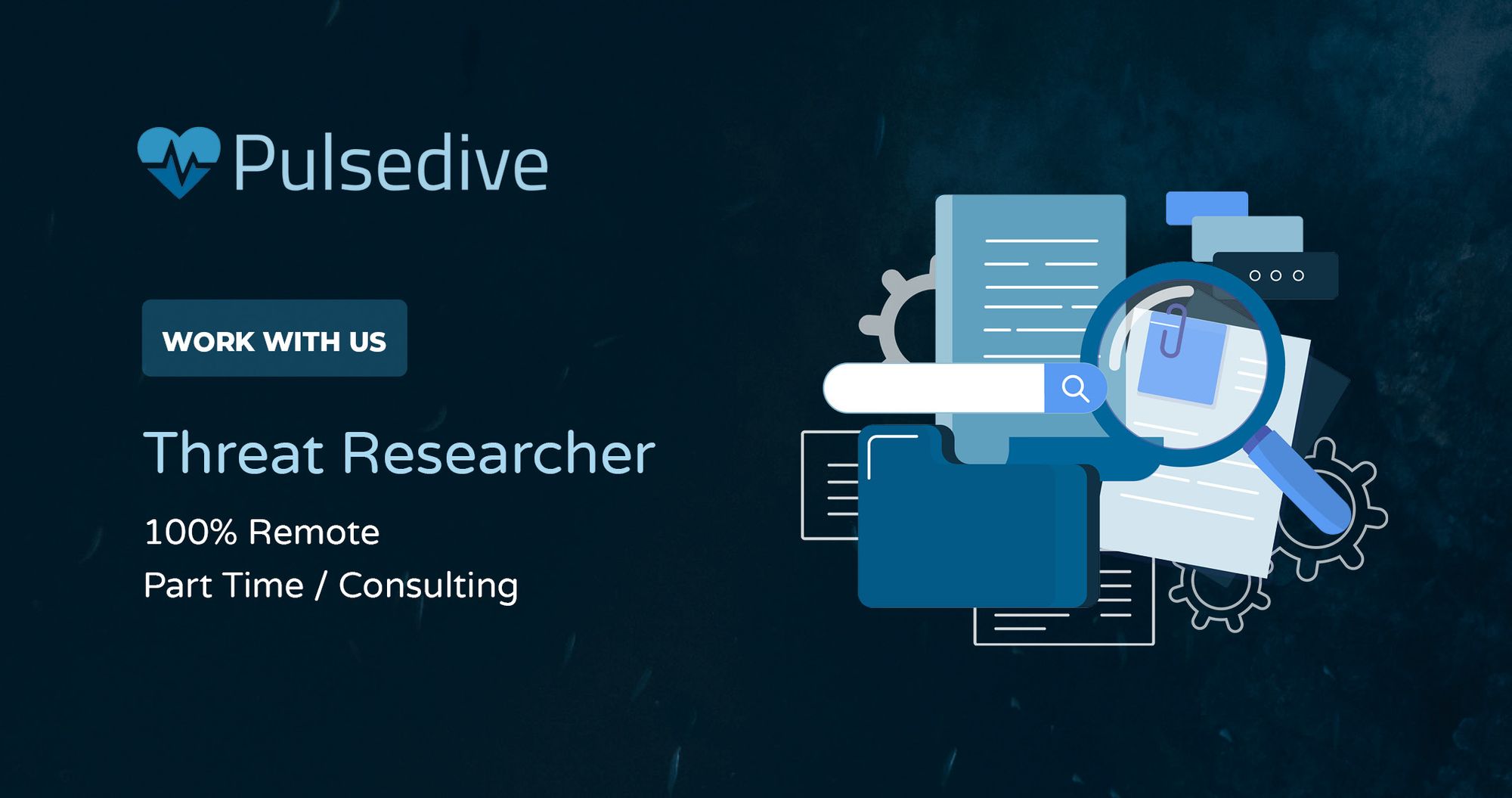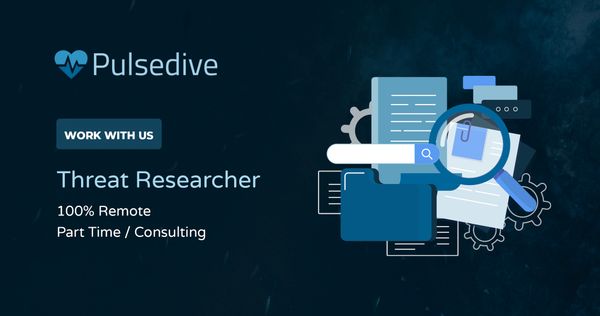 ℹ️
Threat Researcher
100% Remote, Global
HQ in USA
Part-Time / Consulting
The Opportunity
Uncover and share the latest threat research with the community.
Pulsedive is a threat intelligence startup that delivers frictionless threat intelligence solutions for growing teams. We bring together intelligence in our platform and data products (Pro, API, Feed, Enterprise TIP), correlating indicators of compromise and organizing information to support threat collection, pivoting, research, and analysis.
Pulsedive is looking for a threat researcher on a consulting basis to research and analyze cyber threats using data from publicly available sources in order to enrich our data set and publish insightful content for information security practitioners. The ideal researcher loves consuming the latest cyber threat intelligence news and reports and being an active member in the intelligence community. The work you do will help security teams all over the world meaningfully assess risks.
Working at Pulsedive
Regardless of specific role or expertise, we seek candidates who embrace honesty, enjoy constant learning, and are empowered by ownership for what they do. As a product-led company, our users are our primary stakeholders. We believe there are countless ways for talented individuals from all backgrounds to contribute their unique skills, interests, and perspectives as Pulsedive grows - and we can't wait to work with and learn from you.
You'll Get To
Deliver timely research to security practitioners at organizations of all sizes
Stay up to date with active threat groups; new tactics, techniques, and procedures (TTPs); and the latest critical vulnerabilities and trends
Discover new sources of information around emerging actors, malware, and campaigns
Translate relevant research into actionable insights and informational content (e.g., threat summaries, talks, blog posts)
Enrich Pulsedive threat data with new research, industry and country data, and indicators of compromise (IOCs)
Generate feedback to improve Pulsedive's threat intel platform and data offerings
✔️
Get compensated for all the industry news you're already reading and analyzing - while expanding your impact to others who will benefit from this knowledge.
What You've Got (and We Want)
3+ years experience in cybersecurity operations, threat intelligence, incident response, and/or comparable roles
2+ years direct experience with analyzing and processing threat intelligence (e.g., reports, research posts, blogs, government alerts) to parse out indicators of compromise and TTPs
Strong understanding of cybersecurity and demonstrated interest in following the evolving threat landscape
Familiarity using various OSINT techniques and common industry threat intelligence tools
Practical understanding of common threat analysis models such as the Diamond Model, Cyber Kill Chain, and MITRE ATT&CK
Practical understanding of common sharing protocols and data formats such as CVE, TLP, and STIX
Foundational knowledge of network security and their application to threats (e.g., C2, DDoS, TCP/UDP, TLS, DNS)
Authoring threat intelligence and related research (personal or work)
Ability to work independently, while asking questions, openly communicating, and owning the process to deliver solutions
Bonus Points For
Extensive participation and engagement within the security industry (attending conferences, giving talks or presentations, sharing tools or resources, etc)
Strong community or social media presence
The Structure
This is a part-time, 100% remote consulting role with potential for a full-time role at Pulsedive. Our working schedule is flexible, with an average 10 hour weekly commitment. You will have high levels of autonomy, working asynchronously with the Pulsedive team. We'll develop expectations, milestones, and timelines for deliverables together - but give you the space to work in the ways you find the most productive and fulfilling.
Caught Your Eye?
Send us a resume and relevant materials to: talent@pulsedive.com
Not for you, but you know someone who knows someone? Help us get the word out by sharing this post!
🔗
Not for you, but you know someone who knows someone?
Help us get the word out by sharing this post!
What Happens Next?
After we receive your application, we'll update you on your status. If we think there's a fit, we'll send you a quick email to verify relevant experience and then set up a time to interview. We look forward to hearing from you.